Laboratory Systems and Public Health in Resource-Limited Settings (LAB-SPHERE)
Overview
Well-functioning and sustainable laboratory services are key components of strong health systems and crucial for improving public health and research capacities of countries. This is a 2-week intensive course aimed at describing the role of laboratory systems in strengthening health services and research capacity with a special focus on low and middle-income countries (LMIC). The emphasis is on explaining the structure and functions of laboratory systems and their effective and efficient management. Moreover, areas where laboratory systems overlap and/or complement health systems are being considered. The course uses interactive, simulation-based exercises, as well as laboratory- and computer-based practical sessions to complement the theoretical content.
The Bernhard Nocht Institute for Tropical Medicine (BNITM) is Germany's largest institution for research, services and training in the field of tropical diseases and emerging infections. The current scientific focus is on malaria, haemorrhagic fever viruses, tissue nematodes and diagnostics development. To study highly pathogenic viruses and infected insects, the institute is equipped with laboratories of the highest biosafety level (BSL4) and a BSL3 insectary. Outstanding scientific achievements in the recent past include scientific work concerning the Ebola outbreaks in West Africa and the Democratic Republic of Congo.
The course will be taught by staff with teaching and research experience extending across the disciplines of epidemiology, microbiology, laboratory medicine, virology, bacteriology, parasitology, entomology, demography and public health.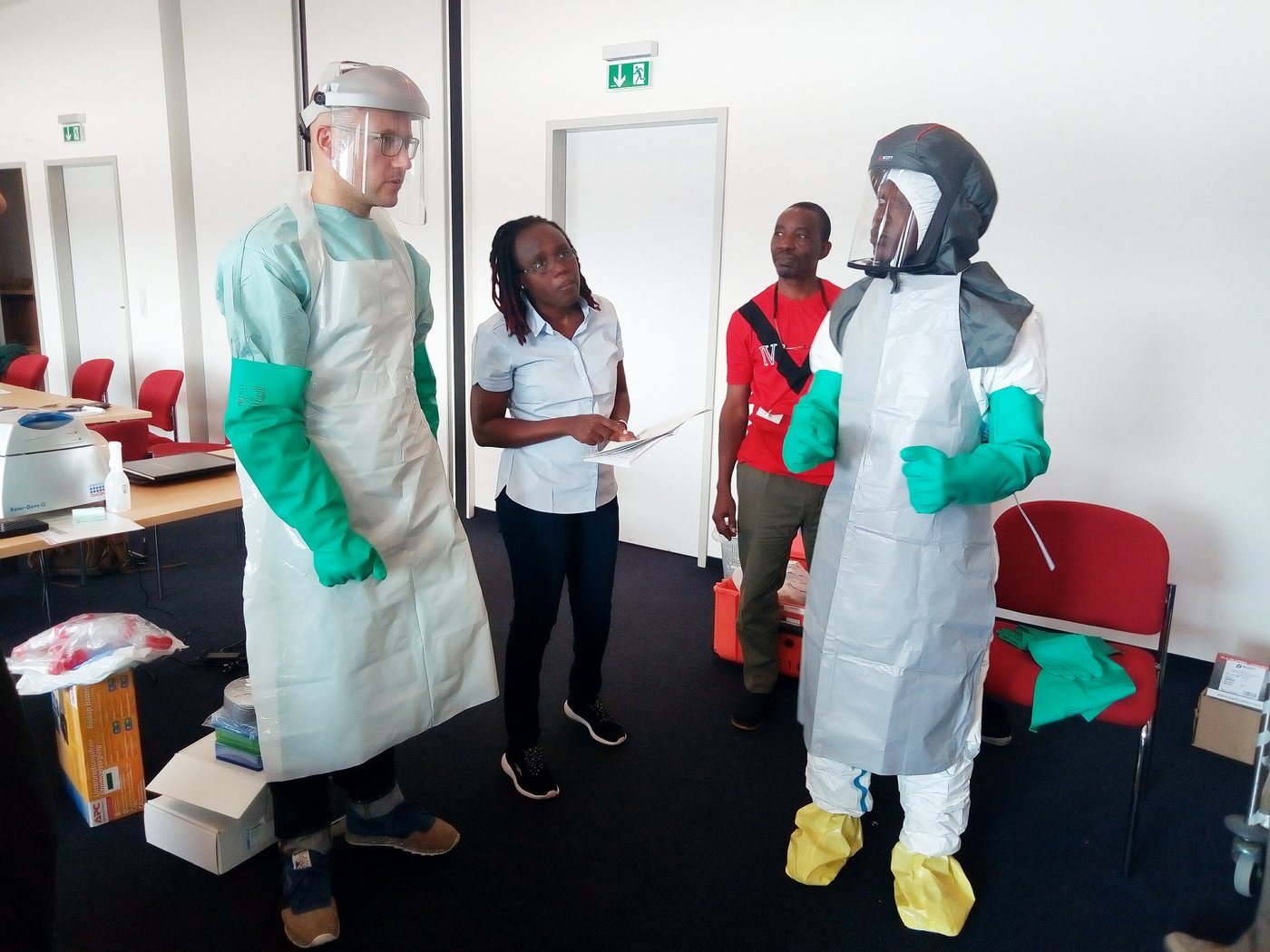 Target audience
The course is relevant to health professionals and other graduates, who work in medical research units, academic departments or health services, or who implement health projects in LMIC. Students admitted to a Master's degree programme may also join this course (e.g. tropEd Network).

Entry requirements
No previous formal training in laboratory science and/or medicine is required, however, general knowledge of public health is useful. The course is taught in English. Therefore, a good command of the English language is essential.
Course content
Course objectives
By the end of this module, students should have gained:
an understanding of the structure and efficient use of laboratory services within the context of public health and in response to humanitarian emergencies
a general awareness of the laboratory management system
a basic understanding in tropical infectious and poverty-related diseases
an understanding of the development of a strategic plan for setting-up a sustainable laboratory system
an appreciation of interdisciplinary cooperation across the fields of laboratory medicine, medical sciences and public health in response to infectious disease threats, natural disasters, war and conflict, and other humanitarian emergencies
Topics to be covered are expected to include:
Introduction to laboratory systems
Elements of public health
Development of laboratory strategic plans at national, regional, local and mobile levels
The role of reference laboratories in the management of the diseases
Laboratory management systems
Diagnostic vs. research laboratories: health services, basic science and clinical research
Biobanking and blood banking
Basic epidemiological methods/concepts as relevant for the laboratory in the context of infectious disease threats
Infectious disease prevention and control measures
Teaching and learning methods
Teaching methods will inlude lectures, individual- and group-based practical sessions, including case study table top exercises, field operational and biosafety/biosecurity training elements, as well as problem-solving exercises.
Assessment procedures
Individual assignment: written report on the implementation of a diagnostic strategy in a fictional setting (60%)
Group assignment: power point presentation on the implementation of a diagnostic strategy in a fictional setting (40%)
For general course attendants these assessments are formative (not graded).

A Certificate of Attendance will be awarded to all those completing the course.
How to apply
Applying for this course
This course is cancelled for 2023
Application period: 01.01.2024 - 30.06.2024
Course fee
General admission: 1100 €/900 € (Early Bird Registration)
Citizens of low and middle income countries/Students: 800 €/600 € (Early Bird Registration)
If you are a citizen and resident of a country classified as a low or middle income by the UN/World Bank and/or a tropEd student, you are eligible to the reduced tuition fee rate. Please refer to this document to see whether your country is eligible: Country Classification Map
Early Bird Registration: If you register within 2 weeks of acceptance notification, you are eligible to a reduction of your course fee.
Course fee includes:
course work
study materials
refreshments
social event
Registration fee
The Institute charges a non-refundable registration fee of 200 € (credited towards the whole course fee).
Withdrawal and refund policy
A participant who withdraws from this short course:
less than 6 weeks prior to start date: 25% of the course fee will be charged
less than 4 weeks prior to start date: 50% of the course fee will be charged
less than 2 weeks prior to start date: 100% of the course fee will be charged
Visas
In order to attend the course, the participant may be required to obtain a visa or other permissions. We kindly advise to start the application process as early as possible as obtaining a visa for Germany can take time. The Short Courses team can provide supporting documentation if requested, however, it is the participant's responsibility to obtain any visa or other permissions.
Accommodation
The course fee does not include accommodation. There is a very limited number of guest rooms available for rent at the Institute, which are made available on a first-come-first-served basis. A list of hotels and other accommodation located nearby the BNITM can be found here: List of Hotels
Key facts
Laboratory Systems and Public Health in Resource-Limited Settings (LAB-SPHERE)
Cancelled
This course prepares you to work with Laboratory Systems and Public Health Infrastructures in Resource-Limited Settings.
Course fee
600 € - 1100 €.
This course is accredited by tropEd (www.troped.org).
Attention: Cancelled for 2023! This course is cancelled for 2023. Application for 2024 will re-open in January next year.
Contact person
PhD Daniela Fusco
Department of Infectious Disease Epidemiology
Phone : +49 40 285380-504
Email : fusco@bnitm.de