Develop medically active substances
Which medicines and vaccines work best?
Controlled testing of new drugs and vaccines for tropical diseases
Novel interventions and medically active agents are urgently needed to combat and control epidemics and neglected diseases. The aim is therefore to expand clinical research and the necessary infrastructure at the BNITM and African partner institutions.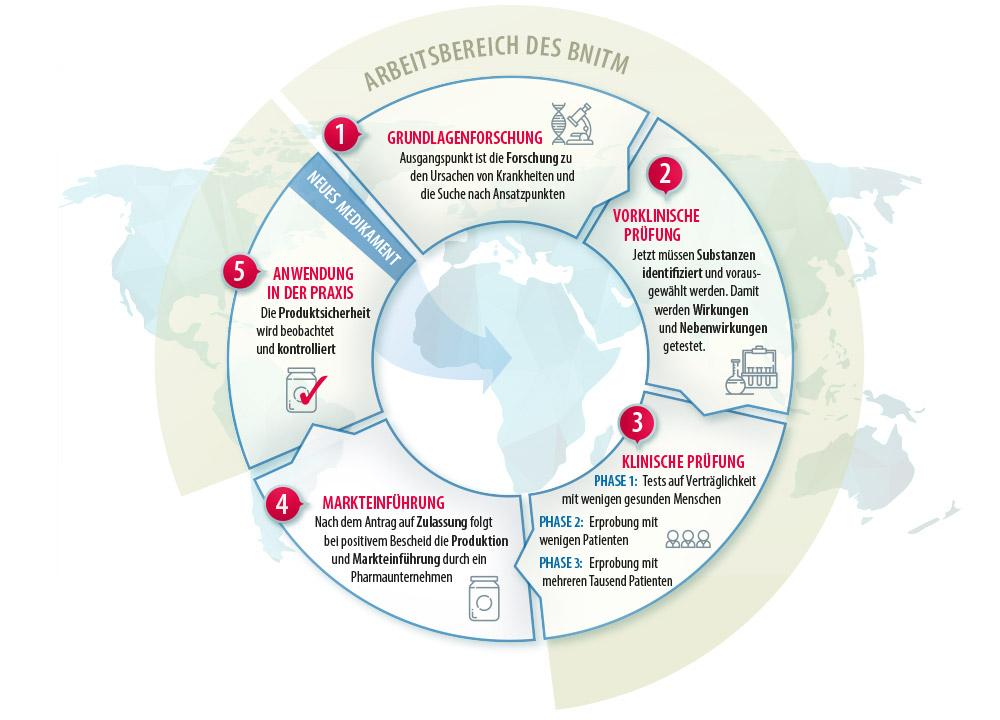 To this end, a corresponding study centre will be established as a platform. Here, clinical research and studies with national and international partners will be carried out according to the highest quality standards. In this context, the BNITM plans to prioritise the expansion of research activities in the tropics. The scientific focus in this area will be on drug development and research on prevention of malaria and neglected tropical diseases. In addition, there will be a clinical research focus on tropical viral diseases. International research collaborations in the field of tropical and travel medicine will be intensified.
Travel medicine is becoming increasingly important against a background of increasing international travel, especially to tropical countries. Our goal is to establish the BNITM as a leading centre for the clinical development of evidence-based travel medicine interventions (vaccines, drugs, preventive measures). A professorship for travel medicine will therefore be established to further develop the profile.
Dr

Eleonora Schoenherr

Science Officer

phone: +49 40 285380-269

fax: +49 40 285380-265

email: schoenherr@bnitm.de
Dr

Anneke Novak-Funk

Executive Assistant to the Board

phone: +49 40 285380-266

email: novak-funk@bnitm.de