Announcements
Persistence of infectious Lassa virus in seminal fluid of male survivors after recovery
A research team of ISTH and BNITM publishes the results of a prospective longitudinal study conducted in Nigeria
Irrua/ Hamburg. Lassa virus can be transmitted from human to human via body fluids during the acute phase. Yet, so far there is no epidemiological data supporting sexual transmission. An international team of researchers from the Irrua Specialist Teaching Hospital (ISTH) and the Bernhard Nocht Institute for Tropical Medicine (BNITM) performed a prospective longitudinal study and discovered that infectious Lassa virus, similar to Ebola virus, can still be found in the seminal fluid of some male survivors of Lassa Fever for up to one year after recovery. The results have recently been published in The Lancet Microbe.
Image: BNITM
Original publication:doi.org/10.1016/S2666-5247(21)00178-6
Like the Ebola virus disease, Lassa fever is a haemorrhagic fever, and symptoms can include dangerous internal bleeding. The causative pathogen is the Lassa virus, which is found in various countries in West Africa. The main source of infection is the natal multimammate mouse (Mastomys natalensis), which is widespread in Africa. But the virus can also be transmitted from person to person.
Although many Lassa virus infections are mild, the mortality rate among hospitalized patients is as high as 20 to 30 percent. It is estimated that up to 300,000 people are infected with Lassa virus in endemic areas each year, and up to 5,000 people die as a result of the infection. In addition, Lassa fever has epidemic potential. The virus has an incubation period of up to 21 days and so far, there are no vaccines or specific treatments available.
Lassa virus is therefore internationally classified as a pathogen of the highest biological risk group 4. The number of laboratories with adequate protection options is limited in the affected countries. While this is being addressed in countries like Nigeria, the limited capacity for testing complicates diagnosis, patient management and research of the virus. Scientists from the Irrua Specialist Teaching Hospital (ISTH) in Edo State, Nigeria, and the Department ofVirology at Bernhard Nocht Institute of Tropical Medicine (BNITM) have now published study results that could significantly improve Lassa fever follow-up care and infection prevention.
So far it was not known whether and how long infectious Lassa virus can persist in various body fluids after the acute phase of the disease. The research team led by study director and Principal Investigator, Dr. Ephraim Ogbaini-Emovon from the ISTH and the virologist Dr. Anke Thielebein from the BNITM repeatedly analyzed various body fluids of recovered patients over a period of two years, including blood plasma, saliva, urine, lacrimal fluid, and vaginal or seminal fluid. 165 participants were enrolled of which 159 were included in analysis. Participants returned to the ISTH day clinic nine times after they were discharged from the Lassa fever ward. During each visit the participants were systematically questioned about their condition and extensively examined. The listed specimens were collected and investigated for the presence of genetic material (RNA) of Lassa virus.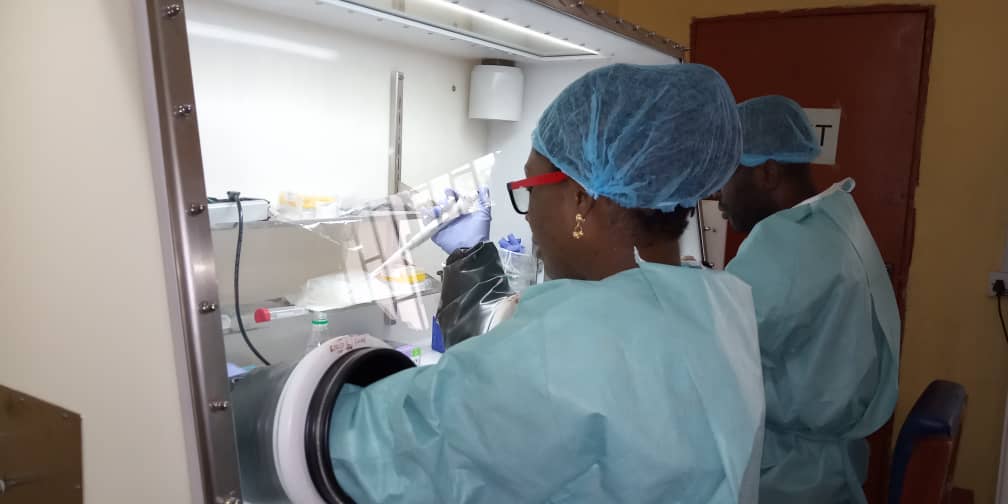 In total, the study team at ISTH analysed more than 4,800 samples. In the first month after discharge, they found low levels of Lassa virus RNA in 26 percent of plasma, 19 percent of urine, 3 percent of saliva, 4 percent of lacrimal fluid, and 9 percent of vaginal swab samples. All samples of these body fluids became negative three months after discharge at the latest.
In contrast, more than 70 percent of the collected seminal fluid samples were found to contain consistently high concentrations of Lassa virus RNA within the first month. Six months after discharge, almost 20 percent of the samples were still positive, and 2 percent remained positive for up to twelve months after recovery. A total of three quarters of all study participants, who provided at least one seminal fluid sample, were at least positive at one timepoint - a clear majority. Using a mathematical model of the data, the researchers calculated that 50 percent and 10 percent of male survivors still shed Lassa virus RNA in their seminal fluid after 83 days and 193 days after discharge, respectively.
But does this viral RNA still represent infectious virus? To clarify this, Dr. Thielebein performed experiments in the biosafety level 4 laboratory at BNITM. To isolate infectious Lassa virus from the positive samples they were used to infect cells and immunosuppressed mice. Interestingly, infectious Lassa virus was isolated from more than half of the seminal fluid samples tested, including samples collected six and nine months after discharge, while other body fluids that contained Lassa virus RNA during the first month after discharge did not yield infectious virus.
The research team further found a correlation between the severity of the disease and prolonged persistence of virus in seminal fluid. Compared to the group with a short-term persistence (maximum one month after discharge), the participants with long-term persistence (three months and longer after discharge) stayed longer in the hospital , had a higher viral load at the beginning of their illness and showed a higher organ involvement. In other words, the more severely the participants were ill, the longer the virus subsequently survived in their seminal fluid.
Dr Anke Thielebein: "Our study results show that there is a significant risk for male survivors of Lassa fever to harbor infectious virus in their seminal fluid for a prolonged period after the acute disease. Especially men with a severe course should be informed that there is the risk to potentially sexually transmit the virus even six to nine months after their recovery. The opportunity to get follow-up testing should definitely be given and adequate protective measures must be made possible. And women should also have only protected sexual intercourse for a few months after their discharge from hospital."
Dr Ephraim Ogbaini-Emovon: "This study is novel! It is the first to demonstrate that Lassa fever is potentially sexually transmissible. Our findings have implication for sexual health, infection control and public health. We now have the evidence to recommend barrier methods of preventing sexually transmitted diseases, such as the use of condom for male survivors of Lassa fever. In addition, sexual health education, counselling and post-discharge follow-up testing of male survivors is recommended in order to prevent community transmission of the disease. Furthermore, the results from this study form a good basis for further studies on the clinical implications of persisting virus in the male reproductive system."
The researchers continue to investigate the long-term immune response after a Lassa virus infection. They use serological methods to determine the antibody levels against various virus antigens and examine their ability for neutralization. A correlation analysis of the immune profile with the severity of the disease and the virus persistence in the seminal fluid could identify further possible risk factors.
Prof. Sylvanus Okogbenin, Chief Medical Director of ISTH: "This research work carried out by scientist from the ISTH and the BNITM speaks volume of the capacity development that has taken place in over a decade of research collaboration between our institutions. The relationship epitomizes the much-desired North – South research co-operation. The findings suggest that apart from the seminal fluid, there may be other body fluids where Lassa virus could reside for months with implications for overall Lassa fever care and follow up. Finally, I believe these findings underscore the need to facilitate the development of Lassa virus vaccine as cost effective means of prevention."
Dr Chikwe Ihekweazu, Director General of the Nigerian Centre for Disease Control, said, "The research conducted out by scientists at ISTH and BNITM continues to provide much-needed evidence for the prevention and control of Lassa fever outbreaks. We are proud of Nigeria's increasing contribution to global Lassa fever research and collaboration with institutions like BNITM that support our scientific and public health aspirations. In addition to the excellent science, we are developing the capacity of scientists that Nigeria needs to ensure continuous engagement with global research and development."
---
Background Information
About Bernhard Nocht Institute for Tropical Medicine
The Bernhard Nocht Institute for Tropical Medicine (BNITM) is Germany's largest institution for research, care and teaching in the field of tropical and emerging infectious diseases. Current research focuses on malaria, haemorrhagic fever viruses, immunology, epidemiology and clinic of tropical infections as well as the mechanisms of virus transmission by mosquitoes. For handling highly pathogenic viruses and infected insects, the institute has laboratories of the highest biological safety level (BSL4) and a safety insectarium (BSL3). BNITM includes the national reference centre for the detection of all tropical infectious agents and the WHO collaborating centre for arboviruses and haemorrhagic fever viruses. Together with the Ghanaian Ministry of Health and the University of Kumasi, it operates a modern research and training centre in the West African rainforest, which is also available to external working groups.