Announcements
Sophie Duraffour wins Science Award of the GSK Foundation
Dr. Sophie Duraffour from the Department of Virology at the Bernhard Nocht Institute for Tropical Medicine (BNITM) receives the "Clinical Research" award of the GlaxoSmithKline Foundation. The prize is endowed with 10,000 euros. It is awarded in recognition of outstanding scientific work.
Dr. Duraffour published the results of the award-winning work in January 2019 in the prestigious Science journal under the title "Metagenomic sequencing at the epicenter of the Nigeria 2018 Lassa fever outbreak". In it, she and her co-authors describe the so-called metagenomic sequencing that they carried out during the Lassa fever outbreak in Nigeria in 2018.
In its citation, the GSK Foundation praised Dr. Duraffour for using this method to gain important insights into how to successfully combat the outbreak. For example, the research team found that the Lassa virus strains in the samples were not directly related. This ruled out human-to-human spread from a single source of infection. Apparently, transmission of the viruses from rodents to humans caused the outbreak. This was important information for local authorities to control the outbreak.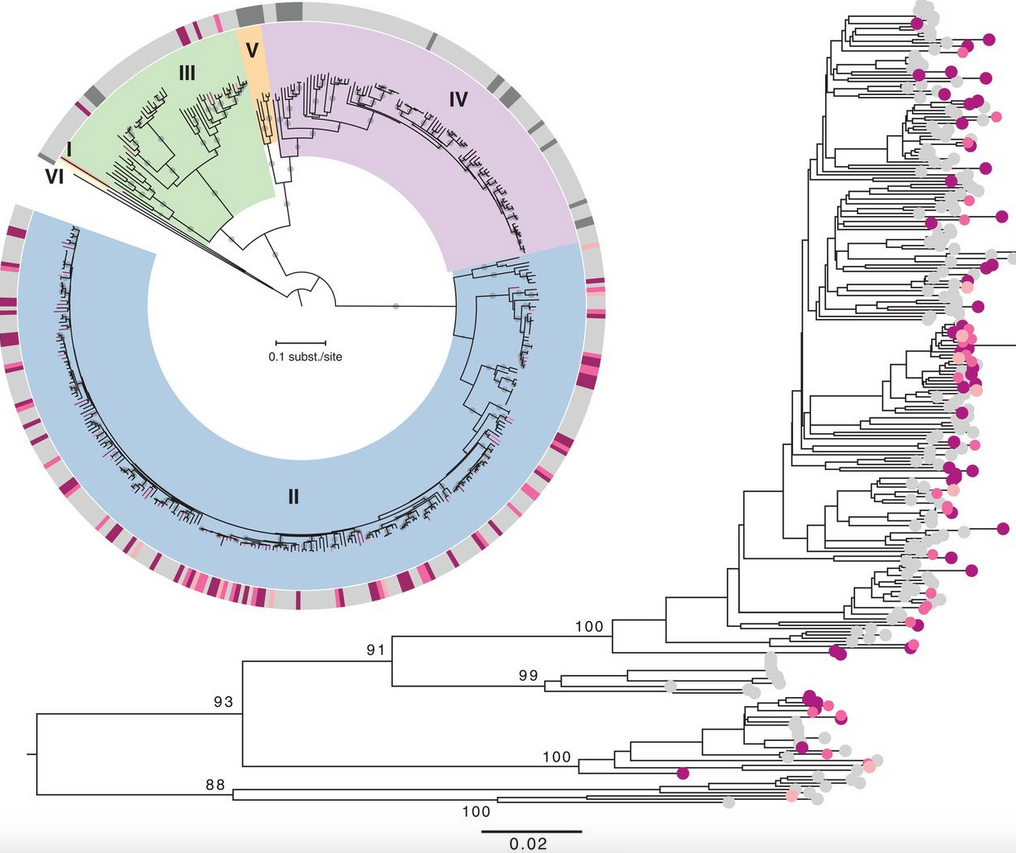 Phylogenetic reconstruction of the S-segment data.
In addition, the work led to advances in the field of molecular epidemiology. In particular, the jury emphasised the pioneering work Dr. Duraffour had done by carrying out elaborate sequencing in real time. This is because it enables portable rapid sequencing for unknown outbreak pathogens even under simple conditions directly in the outbreak area.
The award winner Dr Sophie Duraffour: "I am very honoured to receive this prestigious award. I thank the GlaxoSmithKline Foundation for this special recognition. At the same time, I would like to sincerely thank my team for their great collaboration and in particular Dr. Liana Kafetzopoulou who made this work possible."
BNITM Chairman Prof Egbert Tannich: "We are very proud that Sophie Duraffour receives the coveted GlaxoSmithKline Foundation Science Award. Dr. Duraffour and her team did outstanding work during both the major 2014 Ebola outbreak in West Africa and the 2018 Lassa fever outbreak in Nigeria."
Due to the COVID-19 pandemic, the GSK Foundation was unable to host an awards ceremony last year. This is now planned for this autumn, together with the awarding of the prizes for 2021.
---
Contact person
Dr Eleonora Schoenherr
Phone : +49 40 285380-269
Email : presse@bnitm.de
Julia Rauner
Phone : +49 40 285380-264
Email : presse@bnitm.de