Announcements
VISION: New DFG Research Training Group for cutting-edge virology research in Northern Germany
Viruses can not only make us humans ill, but in the worst case they can also shake up social and economic structures. The Corona pandemic taught us that. For future pandemics, the reaction time for the development of antiviral drugs and vaccines must be shortened. This requires excellently trained virologists. The German Research Foundation (DFG) has approved a new research training group for this purpose: "VISualization and imaging of virus InfectION (VISION)". The Bernhard Nocht Institute for Tropical Medicine (BNITM) is involved with a sub-project on structural biology.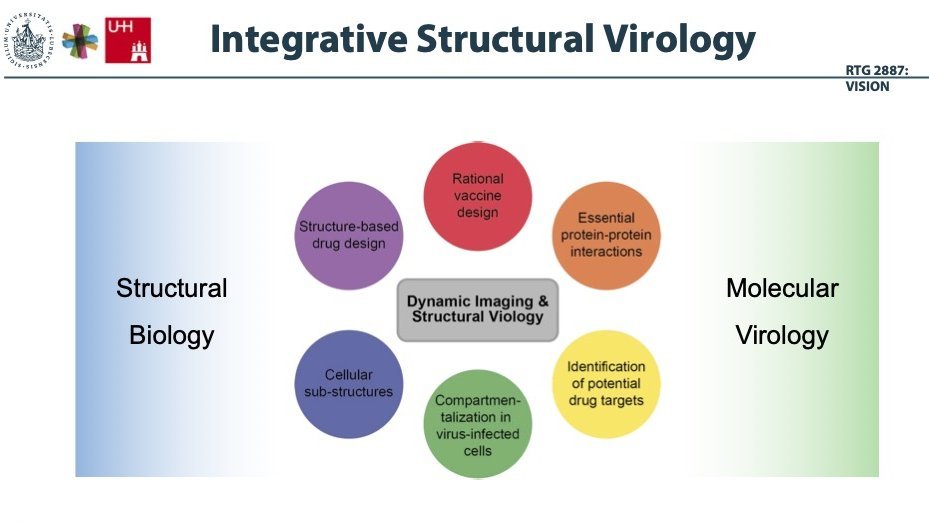 ©Thomas Krey
Anyone who has a severe bacterial infection is given an antibiotic. Treatment of severe viral infectious diseases is much more difficult: there are still too few and too unspecific antiviral drugs.
In order to develop efficient antiviral treatments, we need to understand the life cycle of viruses and exactly which processes take place. Basic virological research with imaging and structural analytical technologies helps to elucidate the fundamental molecular principles that play a role during a viral infection.
The aim of the Research Training Group "VISION" is to train a new generation of virologists in the application of these technologies and thus establish an integrative approach to structural virology. Because only the integration of these techniques into virological research makes it possible to understand the course of viral infections in all its complexity. And that requires special training: both in structural biology and in virology.
The spokesperson of the Research Training Group is Professor Thomas Krey, head of the Institute of Biochemistry at the University of Lübeck, co-spokesperson and co-applicant Professor Kay Grünewald (University of Hamburg and Leibniz Institute of Virology (LIV)). In addition to the BNITM, other partner institutions are the University Medical Center Hamburg-Eppendorf (UKE), the European Molecular Biology Laboratory (EMBL), the German Electron Synchrotron (DESY), the European XFEL and the Centre for Structural Systems Biology (CSSB) Hamburg, the Hannover Medical School, the Technical University of Braunschweig and the University of Siegen.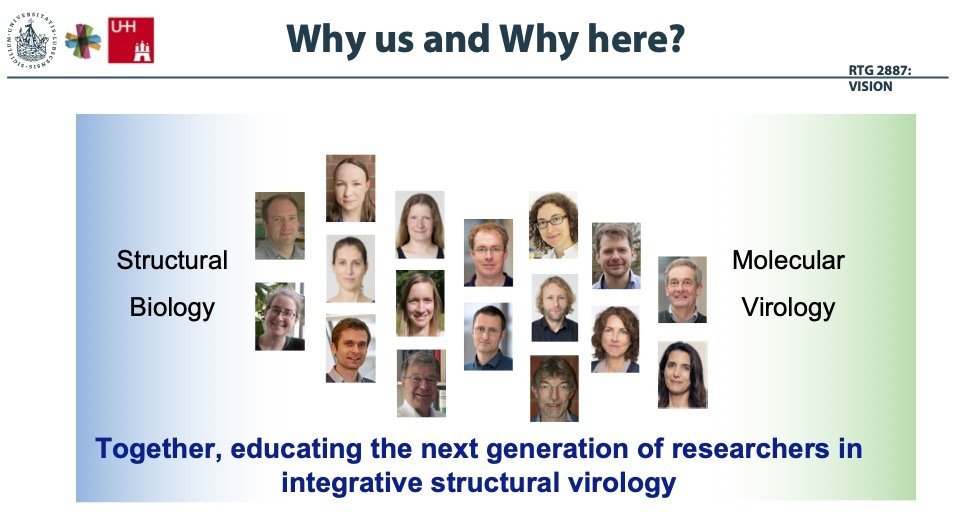 Initially, eleven doctoral positions have been advertised. The future doctoral students will focus their research primarily on clinically relevant viruses such as herpes viruses, influenza viruses, noroviruses, hepatitis E and C viruses, polyomaviruses and emerging viruses, with special attention to the interaction of these viruses with host cells and the immune system. The findings can serve as starting points for novel antiviral drugs. The sub-project of Professor Maya Topf (UKE, LIV and CSSB) and Dr. Maria Rosenthal from BNITM is looking for new antiviral strategies to combat Lassa viruses. Based on the latest structural biological findings on virus replication, they are investigating the hypothesis of whether and how certain interactions between viral proteins could be used to interrupt the viral life cycle - and thus treat Lassa virus infections in the future.
The Chairman of the BNITM, Professor Jürgen May: "I congratulate Dr. Maria Rosenthal and the entire consortium very warmly on this success! The Research Training Group VISION is visionary in several respects: It aims to revolutionise virological training, both in terms of content and methodology, and it involves a particularly large number of young and female researchers. The best conditions for outstanding young scientists from northern Germany."
The "VISION" Research Training Group is one of eleven new Research Training Groups that will be funded by the German Research Foundation with a total of around 76 million euros over a period of five years from autumn 2023. Research Training Groups offer doctoral candidates the opportunity to complete their doctorate at a high professional level in a structured research and qualification programme.